Iconic Wonders of the Frozen Continent
11 night package, Antarctica luxury all-inclusive expedition onboard Le Boreal
Package Details
Itinerary
Terms and Conditions
If there is one place on the globe that fires the imagination of travellers and arouses in them an instant thirst for adventure, it is the immaculate and faraway lands of the White Continent. Inhabited by a surprising endemic fauna, the Antarctic will welcome you during an 11-day expedition cruise.

At the border between the Atlantic and the Pacific oceans, you will enter Drake Passage. At the roaring fifties and the screaming sixties, the wind blows and the waves beat against the stern of the ship. In the sky, cape petrels lead you toward their realm until you reach the first of the continent's lands.

Ice is there in all its forms. The mountainous landscapes open up to give way to huge calving glaciers, tabular icebergs drift in the middle of the Southern Ocean, and the sea ice shimmers in the distance. On board, the naturalists share with you the secrets of this unique ecosystem. As you near the shores, the first penguins appear. Gentoo, Adélie, chinstrap: these surprising birds, emblematic of the Antarctic, share their beaches with leopard, crabeater and Weddell seals. During an outing on land or at sea, in a zodiac dinghy or a kayak, you will move through a stunning scenery bathed in polar light.

We are privileged guests in these extreme lands where we are at the mercy of weather and ice conditions. Landings on certain sites and the observation of certain wildlife cannot be guaranteed. They vary from day to day, making each PONANT cruise a unique experience. The Captain and the Expedition Leader will make every effort to ensure that your experience is as rich as possible, while complying with the safety rules and instructions imposed by the IAATO.
Package Inclusions:
Return economy class flights from Sydney to Buenos Aires
Return airport transfers in Buenos Aires
Check-in on 01 Mar 2025 for 1 night PRE 4-star accommodation in Buenos Aires including breakfast
Ponant Hospitality desk at the hotel in Buenos Aires
Return economy class flights from Buenos Aires to Ushuaia
Meet and greet at Ushuaia airport (English-speaking assistance)
10 nights cruise accommodation onboard Le Boreal
Open bar from the moment you board and throughout your cruise, your unlimited drinks are included, at any time of the day
Afternoon tea including Laduree macarons, Lenotre sweet pastries and a selection of fine wines from Maison Taillevent and Veuve Clicquot champagne at gala dinners
Lectures and information sessions hosted by our naturalist guides, covering wildlife, history, geopolitics, the great explorers, climate, environmental protection and educational discovery in the respect of environment
Outings and shore visits in zodiac inflatables with a team of experienced naturalist guides
Explore the magic of Antarctica with a sea kayak adventure lead by experienced, State-Certified kayak guides
Visit research stations and former whaling stations, if conditions allow
Opportunities to see Humpback whales; Gentoo, Adélie and chinstrap penguins; leopard, crabeater and Weddell seals; and numerous species of seabirds
Port & government taxes
Valid for travel between 01 March - 12 March 2025
---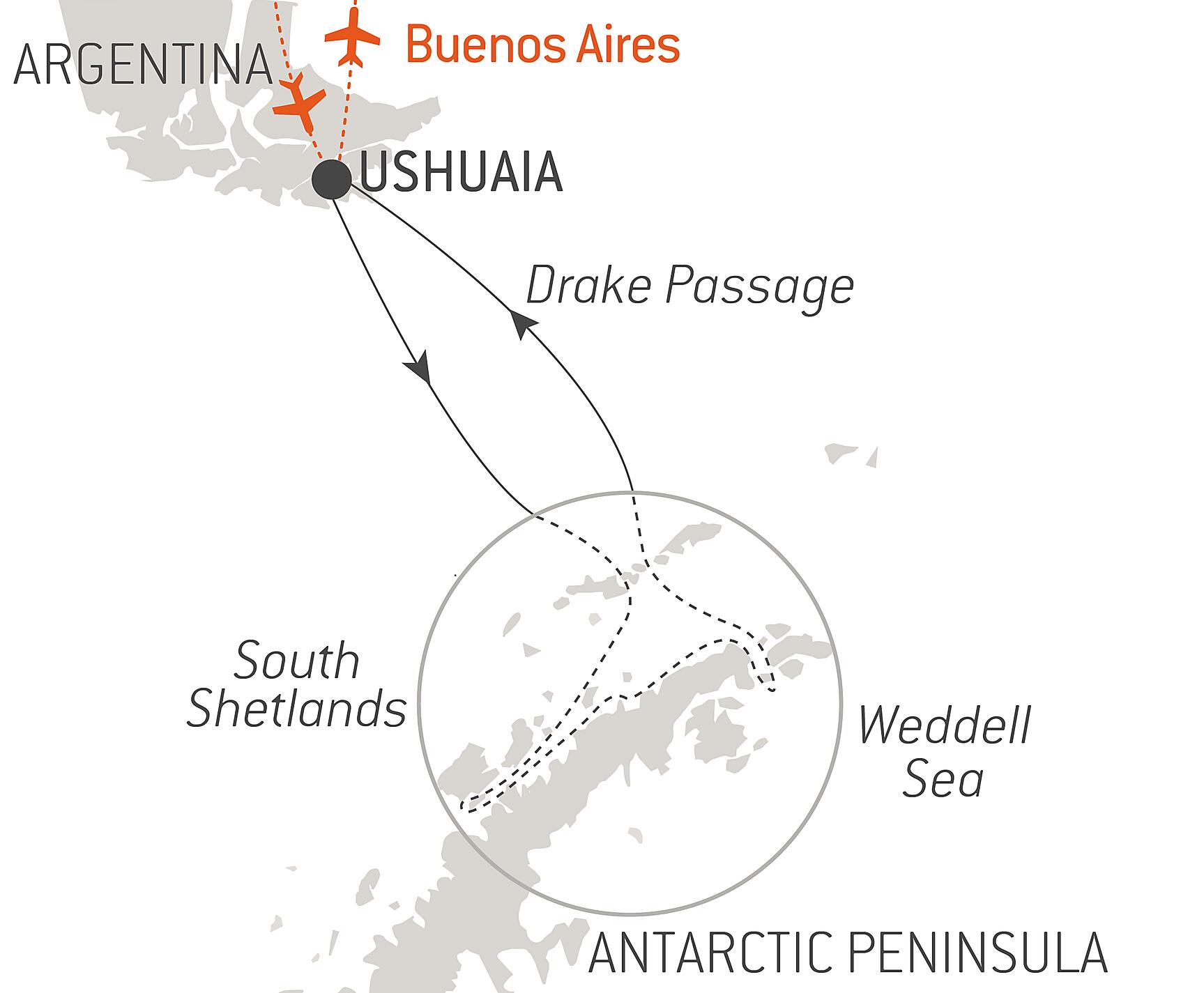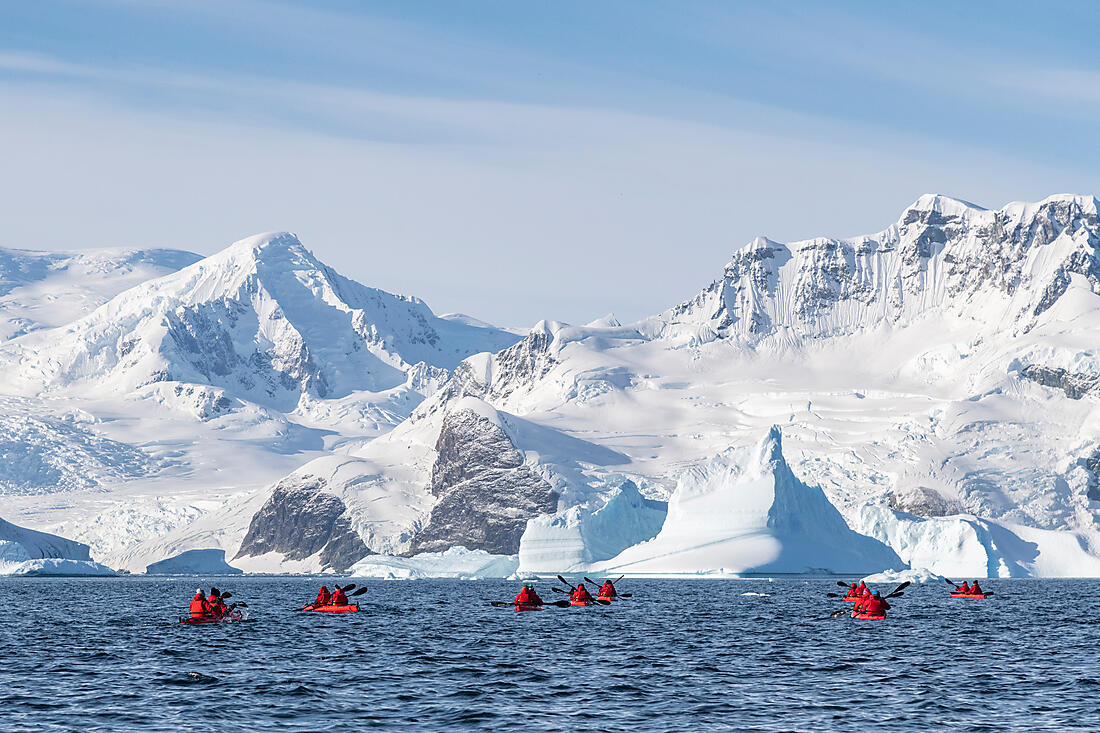 Itinerary Day 1-12For your serenity, PONANT has organised the following included programme for you, which starts the day prior to embarkation...


The day before embarkation - Buenos Aires

Meet at Ezeiza international airport in the arrival hall. Look for PONANT sign. You will be greeted by our local representative.
A shuttle from the airport will permit you to join your hotel.
Check-in from late morning.
Lunch on your own and time at leisure in the afternoon.
Dinner.
Overnight at the hotel.


Embarkation Day - Buenos Aires/Ushuaia

An early morning breakfast will be served before leaving to the airport for you flight Buenos Aires - Ushuaia.
Transfer to the airport.
Flight Buenos Aires/Ushuaia selected by PONANT in economy class. Approximate flight duration: 3 hours, 30 min.
Meet and greet at the airport (English-speaking assistance).
According to the flight schedule, PONANT will adapt services and activities before your transfer to the pier for embarkation.


Cruise itinerary:

| | | | |
| --- | --- | --- | --- |
| 02 Mar 25 | Ushuaia | Embarkation | 06.00pm |
| 03 Mar 25 | Crossing the Drake Passage | | |
| 04 Mar 25 | Crossing the Drake Passage | | |
| 05 Mar 25 | Antarctic Peninsular | | |
| 06 Mar 25 | Antarctic Peninsular | | |
| 07 Mar 25 | Antarctic Peninsular | | |
| 08 Mar 25 | Antarctic Peninsular | | |
| 09 Mar 25 | Antarctic Peninsular | | |
| 10 Mar 25 | Crossing the Drake Passage | | |
| 11 Mar 25 | Crossing the Drake Passage | | |
| 12 Mar 25 | After arriving in Ushuaia you will disembark Le Boreal and be transferred to the airport for your flights home to Australia | Disembark | |
Your programme includes :
A shuttle for your way towards your hotel, the day before embarkation.
1-night accommodation in a 4* hotel the night before embarkation.
Early check-in available from late morning.
Hospitality desk at the hotel in Buenos Aires.
Return flight Buenos Aires/Ushuaia/Buenos Aires selected by PONANT, in economy class.
Services of local guides, in Ushuaia.
Meals as mentioned in the programme and beverage package.
Transfers as mentioned in the programme.
Your programme does not include:
Transfer between airport and hotel in Buenos Aires, the day before embarkation.
Tips for the local guide.
Personal expenses.
Other meals and services not mentioned in the programme.
Terms and Conditions Terms and Conditions apply: All prices are quoted in Australian dollars, based on per person double occupancy unless stated otherwise, and inclusive of all taxes and discounts. All prices & itineraries are current as at 30 October 2023 & subject to change without notice. Prices are subject to change due to availability, currency fluctuations, fuel price, and tax increases. Price includes any stated bonus nights, upgrades & package savings, if applicable. All passports, visas, travel permits, and vaccinations are the responsibility of the travelling passenger to secure prior to travel. Airfares are capacity controlled and are subject to change at any time without notice, based in economy class from Sydney and are subject to the carriers' flight schedules and conditions. Please call us for prices from other airports. Travel packages advertised may include multiple products provided by several suppliers to provide a travel itinerary. Each component of the package will be treated independent of each other, and the specific terms & conditions of each product supplier will apply. Hotels may charge resort fees, or a security bond not included or mentioned in this package, payable direct upon check-in.
Iconic Wonders of the Frozen Continent
Includes:
Cruise Included
Beverages Included
Excursions Included
Flight Included
Accommodation Included
Meals Included
Tours Included